UFC Vegas 56 Fighter to Watch: Jeff Molina
Emerging flyweight looks to make it three straight in the UFC (and 10 straight overall) when he steps in with Zhalgas Zhumagulov on Saturday
Name: Jeff Molina
Nickname: El Jefe
Record: 10-2 overall; 2-0 UFC
Division: Flyweight
Team: Glory MMA & Fitness
Opponent: Zhalgas Zhumagulov (14-6 overall, 1-3 UFC)
Deciding to spotlight Jeff Molina this week wasn't a difficult decision, as I've been high on the James Krause protege since his contract-winning effort on Dana White's Contender Series (DWCS) in the fall of 2020.
Watching that fight, it was clear to me that the young flyweight had the potential to be an impact player in the UFC, not because his skills and talents jumped off the page or anything like that, but more because of the resolve and grit he exhibited in a close, competitive battle against Jacob Silva, who came in on a six-fight winning streak and had zero quit in him as well. That's not to say there weren't fundamental skills and natural talents that were apparent in Molina's game — there were, and still are — but it's more rare to see a fighter in their early 20s, with just a handful of bouts under their belt, fighting with the kind of poise, composure, and tenacity that Molina exhibited in collecting the win that evening.
Since graduating to the UFC, he's only continued to validate my initial impression.
Jeff Molina (
@jmolina_125
) made an immediate impression in his first year on the UFC roster and has no plans to slow down in Year 2:
ufc.com/news/jeff-moli…
#UFC
#MMA
@TheJamesKrause
@laura_sanko
@TeamIridiumISA
@EdKappMMA
@JasonKHouse
@GloryMMAFit
#ElJefe
#NotElHefty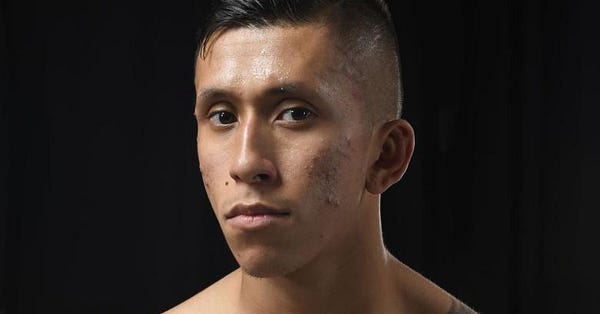 Jeff Molina's Breakout Year
Glory MMA Standout Made The Most Of His Rookie Campaign In 2021
ufc.com
Each of Molina's first two appearances in the UFC showed me something different.
In his debut opposite Aoriqileng in April, the 24-year-old came out a little sluggish, a little "deer in the headlights" for the opening round, and it makes total sense — it was his UFC debut, on a pay-per-view show, and despite being on the early prelims, there were a handful of folks talking about his upside heading into that contest, which can be a lot to process when you're also getting used to UFC Fight Week and being introduced by Bruce Buffer for the first time.
But after that uneven start, Molina settled in and got to work, running level with the Chinese newcomer into the final round, where he took things up a notch and turned the close fight into a clear decision in his favour. It was a spot where there was every reason for Molina to retreat into himself a little — to be safe, to question whether he belongs — and instead, after dropping Aoriqileng a couple times in the middle stanza, he continued to put it on him in the third, landing 127 significant strikes according to the folks at UFCstats.com.
Six months later, "El Jefe" returned and collected his first UFC stoppage, again working back from a tricky first round to drop Daniel Lacerda early in the second and finish him on the deck. After showing he could work at a ridiculous clip late in fights against Aoriqileng, Molina's sophomore appearance showed he's got some pop in his hands, plus quality finishing instincts too.
Now he gets the chance to make his 2022 debut, stepping in with Zhumagulov in a somewhat risky assignment against the talented veteran from Kazakhstan who has struggled in the UFC, but has enjoyed success against quality competitors outside of the Octagon.
* * * * *
So there are some basic pieces about Molina's game that I've liked from the jump, as I've said, including his height — he's five-six, but five-nine on Tinder as he told me in the story featured above — and the way that he uses his jab, his composure, and his overall maturity, both inside and outside of the cage. I like that he does commentary gigs, doesn't take himself too seriously on Twitter, but also isn't always on Twitter and IG getting into beefs and posting 47,000 things.
I also can't say enough good things about his long-term relationship with both Jason High and James Krause, two veteran competitors with a wealth of knowledge and experience to pass along to young fighters under the stewardship. Combine that with being in a room filled with teammates in a similar position, and it's a recipe for potential success.
Here's what I wrote about Molina in this year's Fighters to Watch, which I think sums up my I'm so intrigued about the 125-pound prospect nicely:
JEFF MOLINA: a couple years from now, Molina is going to be a Top 10 staple and in the title picture; that's my prediction. The kid already has the toughness and tenacity you can't teach, plus his all-around skill set is already sharp, but with plenty of room to grow. He earned two good wins in his rookie year, trains with an outstanding crew at Glory MMA & Fitness, and has the personality and presence to earn a push in 2022.
The reason I like this fight on Saturday for him is that Zhumagulov, while being just 1-3 in the UFC and having his lone victory come against Jerome Rivera, who lost four fights in 11 months and was released, fought his first two opponents tough and earned quality wins over Ali Bagautinov, Tagir Ulanbekov, Tyson Nam, and Shajidul Haque prior to arriving in the UFC. The last two of those fights were close decisions – one split, one majority — but he was able to hang with those fellas, and should force Molina to be sharp from the outset on Saturday night.
I was curious to see if the UFC would give the Glory MMA representative a bit of a push this year after the scored a quick second-round stoppage in his sophomore effort, but it appears (at least for now) that that isn't the case, and that's a good thing because given his age, his relative lack of experience, and the current landscape in the 125-pound weight class, there is no reason to rush Molina up the divisional ladder.
He's a perfect "remember his name, watch his development, and be ready for him to be a contender in a couple years" candidate, which I know doesn't sound all that sexy, but it's the reality more people need to accept when it comes to projecting these prospects and looking at the divisional picture in each weight class in general.
There is a reason every current champion in the UFC — including the uncrowned lightweight king, Charles Oliveira — is older than 30 and logged a whole bunch of appearances inside the Octagon: it takes time to figure out who you are as a fighter, how to best deploy your skills, and how to become great; it's not a "turned up this way" type of deal.
Molina has all the markings of a fighter with tremendous upside and a chance to be a long-time fixture in the flyweight division. I believe he will be a contender in a couple years, and look forward to continue watching his rise.
One More Thing: Erin Blanchfield fights on Saturday as well and she might be the best prospect in the entire UFC. I didn't profile her here this week because she was the Fighter to Watch ahead of her last bout against Miranda Maverick at UFC 269 and I'm trying not to double-up in this series until it's absolutely necessary.
Keyboard Kimura is a reader-supported publication. To receive new posts and support my work, consider becoming a free or paid subscriber.